This month, OCI attended COP27, armed with an exciting announcement about our pioneering green hydrogen project in Egypt and ready to drive forward the discussion about what's needed to accelerate decarbonization and resilience globally.
During critical climate moments like this one, there is a great opportunity for governments, businesses and civil societies to come together to discuss the challenges, put forward ambitious yet practical, realistic solutions and agree on ways forward to realize a cleaner future sooner.
OCI hosted and joined our peers in the industry and other stakeholders to explore the solutions available today to advance Green Hydrogen, Sustainable Agriculture and Food System and Sustainable Maritime and Shipping.
Visit www.ocicop27.com for more information on our time at COP27, and read on for our takeaways.
Green Hydrogen
COP27 marked the commissioning of the first phase of Egypt Green, the first integrated green hydrogen to ammonia plant in Africa. When fully developed, the facility will consist of 100 MW of electrolyzers, powered by 260 MW of solar and wind. It will deliver up to approximately 15,000 tons of green hydrogen as feedstock for production of up to 90,000 tons of green ammonia per year at our existing Fertiglobe ammonia plants at Ain Sokhna in Egypt.
We embarked on this project little over a year ago and moved quickly with support from the Egyptian Government, Egypt's Sovereign Wealth Fund and our private sector partners, Scatec and Orascom Construction. Less than twelve months since the beginning of project development, the plant was inaugurated by Egyptian President, Abdel Fattah El-Sisi and the Norwegian Prime Minister, Jonas Gahr Støre.
This project is a significant step in OCI's global decarbonization strategy and an exciting milestone in the execution on our hydrogen roadmap. Adding the electrolyzer to our state-of-the-art ammonia facilities and infrastructure in Egypt, OCI is fully leveraging our existing ammonia production and global distribution infrastructure. Our CEO Ahmed El-Hoshy said of the project:
"What excites me about this project is we've taken action. It's exciting because it's a proof of concept demonstrating what can be done. It is also exciting because it's future focused. We have already made tie ins for the 100MW phase, which will be the next stepping stone."
Read more about our Egypt Green project here.
Ahmed also took part in the first technical panel discussion on the Global Renewable Hydrogen Forum at COP27. This landmark event discussed the future of Green Hydrogen, how to scale it in emerging markets and what the private sector needs to reach scale. The key factor highlighted by OCI was the need for regulation that both supports the development of green hydrogen production projects, and that boosts demand from industry.
Sustainable Agriculture and Food Systems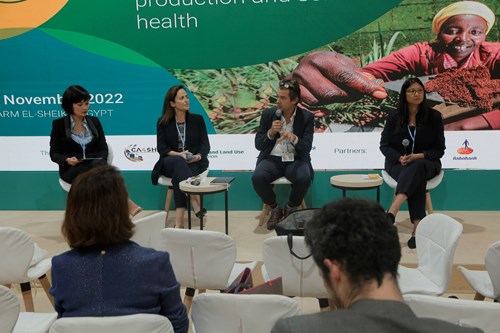 It was a privilege to host our Sustainable Agriculture panel at the first COP Food Systems Pavilion with WWF, the International Fertilizer Association and SYSTEMIQ. Food systems are both a driver and a casualty of climate change, and this insightful discussion explored the implementation of sustainable and regenerative agriculture and the challenges to make this a reality. The panel also included necessary discussion around the critical role of mineral fertilizers in driving food system resilience and the need to drive innovations and implementation to decarbonize the value chain and achieve sustainable use.
Read our takeaways from the panel here.
OCI Director Hans Zayed also discussed the challenges of the global food system and potential solutions at the Citi and OCI Food Systems Reception, amongst other industry peers. As a leading nitrogen fertilizer producer, we're working hand in hand with industry to help increase farm yields and improve plant health, while lowering carbon emissions from our fertilizer production.
It was encouraging to hear everyone – governments, businesses, youth activists, Indigenous people, and climate change campaigners – all in one place, getting across the message that we need to change the way we produce and consume food and goods if we are to tackle this climate crisis.
Sustainable Maritime and Shipping
Our all-female panel on "Decarbonizing Marine Shipping", discussed the need to turbocharge the shipping industry's transition to hydrogen-based fuels.
OCI's VP of Sustainability Hanh Nguyen was member of the panel and provided insights into shipping's efforts to curb emissions and the challenges that lie ahead to decarbonize the industry including creating new standards and safety rules for new fuels, scale-up of supply of new fuels and bunkering infrastructure, policies and incentives for change.
Shipping is the backbone of international trade, accounting for approximately 80 percent of global transportation measured by volume. But shipping is also responsible for 2-3 percent of global GHG emissions.
To upscale alternative fuels into adoptable solutions, we need a significant step-change in how new green technologies are regulated and incentivised. Funding mechanisms to de-risk investment, revision of standards and safety rules, regulatory support and a reform of production chains are all necessary to drive forward this change.
Shipping currently accounts for almost 3% of global CO2 emissions but is one of the hardest sectors to decarbonize due to the cost effectiveness of heavy fuel oil and dispersed refuelling.
Ammonia and methanol, OCI's core products, are the only practical alternatives for long-distance shipping. With global infrastructure in place, these products can bridge the transition from "grey" to "green" until the industry has fully scaled up to products based solely on renewable energy sources.
What's Next
We've come away from COP27 optimistic about the future, but realistic about the action that is needed.
At OCI, we aim to meet the increasing demand for large-scale low-carbon hydrogen and ammonia, as the need for more sustainable energy sources becomes more urgent. As we look forward to COP 28 in Abu Dhabi we will continue to highlight the challenges and offer the real-world solutions that we believe will deliver a cleaner future sooner.
To keep up to date on our progress and projects, follow us on LinkedIn